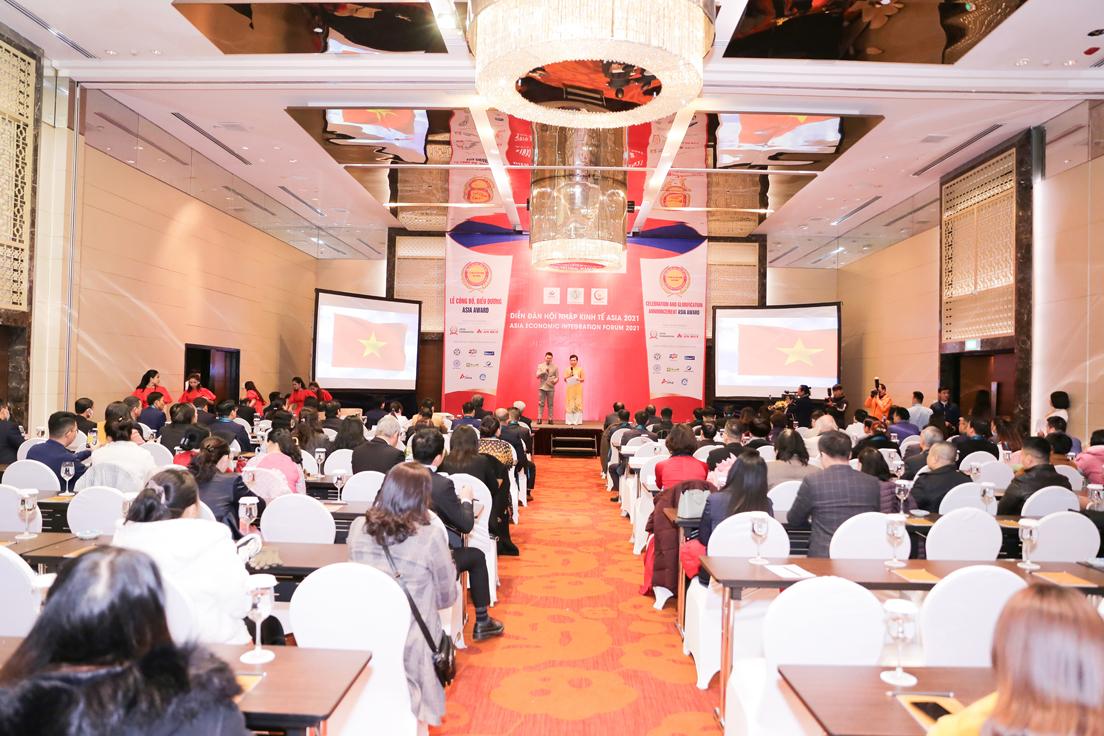 ASIA Economic Integration Forum 2021
08:47 - 24/10/2020
The Ceremony of commending and announcing "Asia Award"
In 2020, Vietnam assumes a dual role as a non-permanent member of the Security Council of the United Nations for the term 2020-2021; Interchange Chairman of the Association of Southeast Asian Nations (ASEAN). Vietnam has many opportunities to demonstrate its position in the region and in the international. Responding to the Politburo's Resolution No. 22-NQ/TW on proactive and active international economic integration, responding to the theme of "ASEAN cohesion and proactive adaption" launched by Prime Minister Nguyen Xuan Phuc; Vietnam - Korea Businessmen and Investment Association, Center for Brand and Business Development, Viet Academy of Science Talent Development and Intellect, Korea Chamber of Commerce and Industry, Vietnam Entrepreneur Scientific Union coordinated with Ministries, Departments, and leading economic experts with a number of organizers of the "ASIA Economic Integration Forum" with the theme "Strengthening Vietnam-Korea Cooperation - A prosperous ASIA" is expected on Saturday, January 9, 2021 in Hanoi capital with the following contents:
1. ASIA Economic Integration Forum
2. The Ceremony of commending and announcing "Asia Award"
The program is an great event annually held in countries in the region with practical economic and cultural significance. This is an effective bridge to help ASIA businesses promote investment trade, promote brands, and enhance their position to create competitive advantages for sustainable growth, towards a stable and prosperous common market in the region and around the world. At the same time, the program also encourages and commends corporations, units, and individuals with their outstanding achievements in production and business activities, branding efforts, and their responsible spirit to the community and society.
With the practical and humane meaning of the program, the Organization Board would like to suggest, invite organizations, businesses, and individuals who meet the registration criteria and send registration documents as soon as possible (with report form and required procedures attached).
Sincerely thank you!
2020 년 베트남은 2020-2021 년 기간 동안 유엔 안전 보장 이사회의 비상임 회원으로서 이중 역할을 맡고; (ASEAN) 동남아시아 국가 연합의장이다. 베트남은 국제에서 자신의 위치를 ​​보여줄 많은 기회를 가지고 있다. Nguyen Xuan Phuc 총리가 "ASEAN 응집력과 적극적인 적응"이라는 주제에 대응하여 적극적인 국제 경제 통합에 관한 정치국의 결의안 번호 22-NQ / TW에 대응을 발동한다. 베트남 한국 기업가 및 투자 협회, 브랜드 및 기업 개발 센터, 베트남 지혜 및 인재 개발 연구소, 한국 무억 공업소, 부처, 부서 및 주요 경제 전문가들과 " ASIA 경제 통합 포럼"의조직 단위와 함께 베트남 기업가 협회는 "베트남 –한국 협력 강화 -번영하는ASIA "라는 주제로 2021년 1월 9일 월 Ha Noi에서 조직하여 다음과 같은 내용이 있다.
1. ASIA 경제 통합 포럼
2. "Asia Award "표창식 및 공포식
이 프로그램은 실질적인 경제적, 문화적 중요성을 지닌 지역의 국가에서 매년 개최되는 큰 행사이다. 이것은ASIA기업이 투자 무역을 촉진하고 브랜드를 홍보하며 안정적인 공동 시장을 향한 지속 가능한 성장을 위한 경쟁 우위를 창출하기 위해 입지를 강화하는 데 효과적인 다리 역할을 한다. 동시에 이 프로그램은 공동과 사회에 대한 생산 및 비즈니스 활동, 브랜딩 건설노력에서 뛰어난 성적이 있는 기업, 단위 및 개인을 장려하고 칭찬한다.
프로그램의 실용적이고 인도적인 의미로 조직위원회는 등록 기준을 충족하는 조직, 기업 및 개인을 제안, 초청하고 가능한 한 빨리 등록 문서를 보내려고한다 (보고서 양식 및 첨부 된 필수 절차).
진심으로 감사합니다!