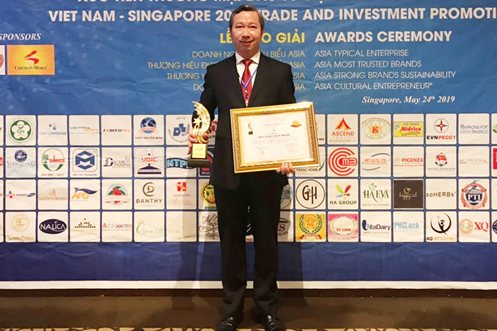 PECC1 becomes one of "Top 100 most trusted trademark in ASIA" at International Economic Forum ASIA 2019
13:47 - 13/10/2020
Mr. Pham Nguyen Hung - Chairman of Management Board cum General Director received Awards at the Forum
On May 24th 2019, welcoming 30 years of establishment, Asia - Pacific Economic Forum (1989 – 2019) was ceremonially organized in Singapore, Mr. Pham Nguyen Hung – Chairman of Management Board cum General Director attended the event as PECC1's representative.
This is sponsored, certified by Vietnam Central Propaganda and Training Commission; European Association For External Relations in Singapore; Asian Entrepreneurs Association; Ministry of Industry and Trade of Singapore; Ministry of Commerce of Cambodia; Culture and Tourism of Laos; Vietnamese Embassy in Singapore; Vietnam Entrepreneurs Scientific Union; Vietnam Intellectual Property and Creativity Magazine.
International Economic Forum ASIA in 2019 with the theme "Vietnam-Singapore Trade Cooperation", and "Awarding Ceremony for 100 Asia Typical Enterprises", "Most Trusted Brands Asia", "Asia Cultural Entrepreneur" are annual cultural, economic, and spiritual values for managers, entrepreneurs, and businesses. These festivals are the motivation for businesses to overcome difficulties to develop. The program is a great event in 2019, which is an opportunity for business people, businesses to introduce products, promote the brand, and enhance their business position in the Asian market.
Being the leading consulting firm in Vietnam power sector, PECC1 owns a group of qualified and dedicated managers, employees. With the sustainable development strategy, we always concentrate on maintaining the national market and simultaneously, looking for opportunities to the world. Projects performed by the Company often satisfy timing schedule, quality, contributing to supply power sources for the sake of National construction and development. PECC1's leaders and employees keep striving for PECC1 trademark enhancement with its mission: PIONEER – CREATIVITY – RESPONSIBILITY – EFFICIENCY.
Top 100 most trusted trademarks in ASIA is an honourable award for huge, prestigious trademark in Vietnam market in particular and in Asia in general. This is actually an honour and pride, and also opens up great opportunities for PECC1 to introduce its trademarks and consultancy products to the world. PECC1, gradually affirms its right step for the future Company development strategy.